BENEFIT ORGANIZATION FOR ENTREPRENEURIAL SURINAM (BOS)
There are plenty of good, reliable Surinam-Dutch entrepreneurs in Surinam and in The Netherlands, but we are often not aware of each other's existence. BOS aims to make these companies visible to one another. BOS connects these companies in both The Netherlands and Surinam.BOS also focuses on in the Antilles- and Caribbean based Surinamese entrepreneurs.

BOS encourages, jointly or otherwise, entrepreneurship of Dutch (SME) enterprices in Surinam and the Antilles and Surinamese (SME) enterprices in the Netherlands.

BOS has and operates according to a code of conduct.

The BOS participants/members will have access to the extensive network of BOS.
ANNOUNCEMENTS:
The Embassy of the Republic of Suriname supports the objectives of BOS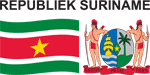 Meetings:
No dates so far
We would like to introduce to you Dionysa Elbers:
Dionysa has been involved in various organizational matters of BOS since October 2018. She is the right hand of Monique van Dijk.
Acon Engineering B.V.
Advocatenkantoor mr. S. Mangroelal
Bright Ideaz B.V.
Caribbean Investment Group N.V
Finance Suriname
Flamingo Telecom B.V.
Info Trade B.V.
Internationaal Ambitieus
Kenswil & Co
Legaco B.V.
Major Hardwood N.V.
ORA Offshore Customs Consultancy
Presun B.V.
Remmerswaal Notariskantoor
Secas N.V.
VANDIJK advocaten
Ambassadors: I.M. Zeelenberg
The BOS Code of Conduct
It is important for the survival of BOS, that BOS builds up and also maintains a good reputation. A strong culture focused on integrity and ethical behavior makes this possible. Respect, transparency, honesty, and integrity are central to the BOS code of conduct. The BOS code of conduct contains fundamental principles and rules regarding, among other things, integrity and ethics for the (business) behavior of BOS participants and for embedding the BOS standards within the BOS organization.
The objective of the BOS code of conduct
Having a code of conduct creates clarity in the communication and cooperation between the BOS participants. It is clear what is expected, and it is clear what is and what is not allowed behavior.
The BOS code of conduct functions as a business card of the BOS organization and its participants. This means that in case of violation of the code of conduct a sanction will be imposed. After all, a code of conduct that is not maintained has no added value.
BOS, therefore, has an admittance committee that votes on the admission of prospective members and does or does not allow them as a BOS member.
Registration of prospective participants
Entrepreneurs in:
07-05 Housing projects in Suriname
09-05 Hotel construction
18-05 Presun BV, is engaged in the realization of projects and building model houses in Suriname.
BOS was present at the Embassy of the Republic of Suriname at the network meeting "Engaging with the Diaspora for development" on Monday evening, May 14, 2018.
The BOS code of conduct apply to all BOS members;

It is not possible to become a BOS member if one does not commit in advance to the BOS code of conduct;

A BOS member is expected to implement the BOS code of conduct;

If a BOS member does not comply with the BOS code of conduct, the expectations, and related contractual obligations, this will lead to sanctions. In most extreme case to termination of the BOS membership;

Entrepreneurs who are not a BOS member can not appeal to the BOS code of conduct.
Impression of the foundation meeting BOS Saturday, March 10, 2018 in Rotterdam:
Possibilities to advertise on the homepage
Knowledgevouchers
BOS participants with international ambitions or an international field of work have the opportunity (under certain conditions) to get (legal) advice on doing business abroad in a financially favorable way. This includes: assessing existing, and drafting new contracts, advising on the use of general terms and conditions for international export transactions, advising on import / export licenses, customs rules, and other (legal) advice in the context of internationalization.
BOS encourages working with knowledge vouchers that can be obtained through the Netherlands Enterprise Agency (RVO). In the most favorable case, you can get 50% (with a maximum of € 2,500 per advice) of your (legal) advice costs back through the intervention of BOS. This could give you thousands of euros benefit.
The BOS community
BOS stimulates competition. Various studies have shown that competition leads to better and more sustainable performance. Within the community of BOS, entrepreneurs can share their knowledge and experiences with regard to doing business with each other and doing business in different countries.  The participants have different cultures. BOS also focuses on doing business with other cultures in different countries. However, a BOS participant should be able to expect that a fellow BOS participant has the requirements of good entrepreneurship. A participant should be able to rely on the fact that doing business with another BOS participant guarantees a reliable and sustainable cooperation.
BOS strives for the widest possible variety of entrepreneurs within its community.
You can read the "About us" page to see what BOS can do for you.
Complaints
BOS strives to realize a culture based on trust and individual responsibility. BOS participants must be able to trust that the BOS code of conduct will be observed. Nevertheless, BOS' participants can be confronted with behavior of a fellow BOS participant that is in conflict with the BOS code of conduct. In the event that a dispute can not be resolved amicably, BOS participants can submit a complaint to the Admittance- and Enforcement Committee. The complaints procedure is part of the BOS code of conduct. See article IV code of conduct.
Click here for more information.